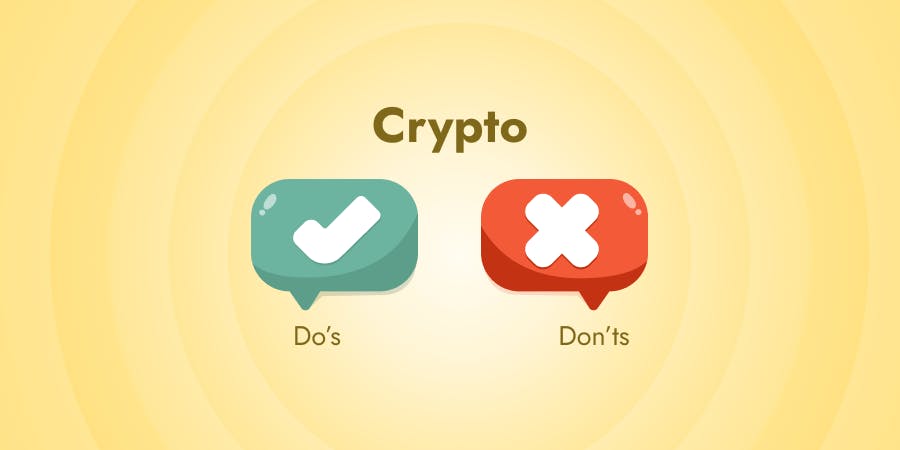 The Top 5 Do's and Don'ts of the crypto space
6 mins read
In the last few years, conversations about cryptocurrencies like bitcoin and how they have grown into profitable assets have spread like wildfire. 
Although crypto might seem like rocket science at first glance, especially if you have had no prior knowledge or someone to guide your experience, it's pretty easy to understand. This is why we have combined the top do's and don'ts in this article. You can think of them as the cardinal rules you follow to ensure you have a smooth transition into crypto.
These do's, and don'ts will help you avoid classic beginner mistakes and set you up for success as a crypto trader or investor. Regardless of the reason you are getting into crypto; you need to keep these do's and don'ts in mind always!
The Do's or Best Practices of The Crypto Space
The Don'ts of The Crypto Space
In A Nutshell
Regardless of why you wish to invest in cryptocurrencies, you will need to know these basics. These do's and don'ts will help you know when to invest, how to secure your crypto and profit from your investment. Like any other field you invest in, you need to ignore the hype, research and invest only in an asset you are convinced about while prioritising your security. Even as an experienced crypto investor or trader, your security is essential; you must always ensure its optimum. 
Ready to start your crypto journey? You can get started by downloading the Yellow Card App, a praised user-friendly crypto exchange where you can buy crypto at cheap rates and in your local currency. At the same time, Yellow Card has optimum security features (2FA) and more to make your crypto journeys easy and seamless. You can easily start buying and selling crypto while staying updated on the crypto space.