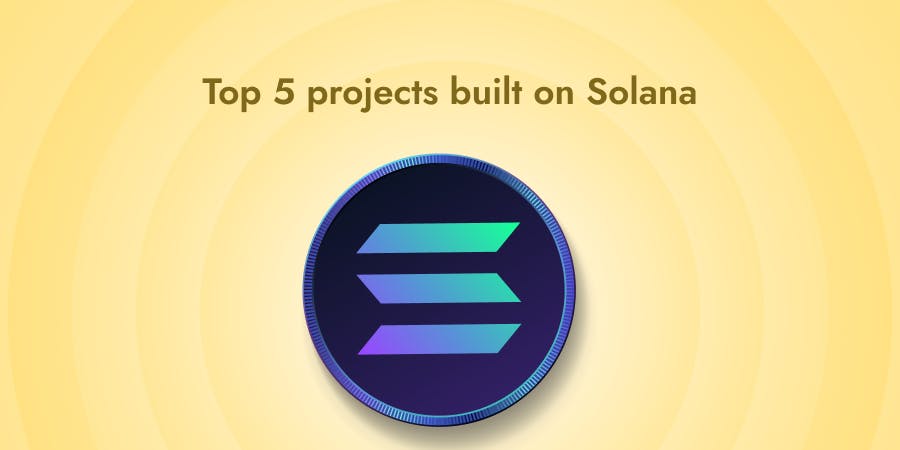 Top 5 Projects Built On Solana
4 mins read
Solana is a blockchain that has gained popularity among developers and investors because of its high-speed and scalable blockchain solutions. Popularly considered the Ethereum Killer because of its speed and low cost, Solana has risen to run several projects on its blockchain. In this article, we'll discuss what Solana is and which top 5 projects are gaining the most traction in the blockchain community. 
What is Solana?
Solana, founded in 2017 by Anatoly Yakovenko, is an open-source blockchain designed to process fast and secure transactions at the lowest cost. Solana's native currency Solana (SOL), ranks among the top 20 cryptocurrencies at the time of writing.
Solana blockchain runs on a proof of stake consensus mechanism and combines a decentralised application (dApp) development platform that allows other projects to be built on its blockchain. The high-performance blockchain can process up to 65,000 per second, and its vision is to create a decentralised, secure blockchain that is accessible to everyone. 
Top 5 projects Built On Solana
Final Note
Solana is a high-performance, scalable blockchain that has gained popularity among developers and investors because of its fast and secure transaction processing at low costs. These projects leverage Solana's speed, scalability, and low transaction costs to offer users a fast, secure, and transparent user experience while supporting several tokens and cryptocurrencies on their platforms.
Solana's cutting-edge capabilities have enabled developers to create innovative solutions that address the limitations of traditional platforms and provide users with more accessible and efficient solutions.
However, while these projects offer impressive solutions, it is essential to conduct adequate research before investing in any of these projects.