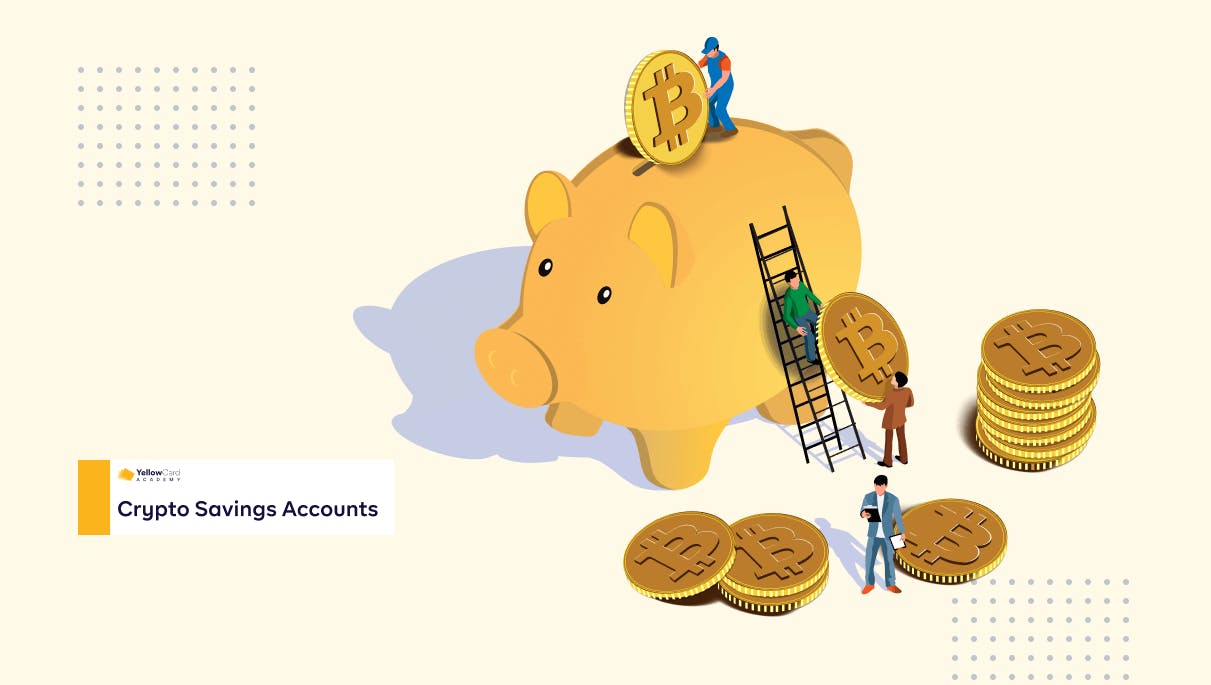 Cryptocurrency Savings Accounts
7 mins read
While some may consider investments in cryptocurrencies a huge gamble, others applaud it for its lucrativeness as an investment.  Cryptocurrencies are not just built to facilitate financial transactions, they are well on their way to restructuring the traditional economic structures.  One of such crypto projects dedicated to reshaping the financial ecosystem is the crypto savings account.
What are cryptocurrency savings accounts?
However, cryptocurrency savings accounts aren't just for storing your crypto because, let's be honest, your crypto wallet already performs that function. Cryptocurrencies savings account also lets you earn a passive income from simply saving your account. Account-holders can earn a passive income from the interest the crypto bank pays them over the years.
How cryptocurrency savings account works
When cryptocurrencies are bought as an investment asset, it is often held in crypto wallets. This leaves the cryptocurrency idle. However, a crypto savings account offers a way for your cryptocurrencies to earn you an income at no extra costs.
Crypto savings account functions similarly to your traditional savings account. When you open a savings account, you sign an agreement with the bank that gives them permission to loan out or invest your funds in a lucrative business. As part of the agreement, you earn an interest dependent on how much you had saved over time. Crypto savings accounts are the same, just that rather than fiat currencies, you hold cryptocurrencies and earn interest from a crypto bank.
In this case, the crypto bank loans your cryptocurrencies to other investors and pays you interest over time. However, it is essential to note that unlike with a traditional savings account where you can withdraw your funds anytime, there are restrictions to withdrawals with crypto savings. Although each crypto saving account differs in its policies, most accounts restrict how often you can withdraw and attach fees to withdrawals before select days.
Another important detail you need to note is that the crypto savings account can access the cryptocurrencies you save. In a crypto wallet, you retain absolute rights over your cryptocurrencies. However, by putting your crypto into a crypto savings account, you give the platform absolute rights over your cryptocurrencies.
A downside to placing your funds in a crypto savings account is that they are not insured by Federal Deposit Insurance Corporation (FDIC). FDIC insurance ensures that your funds are protected and that you don't lose money when saving it in a traditional savings account. However, cryptocurrencies are very volatile, which means that they might have reduced in value from the initial time of your investments, resulting in a loss. Therefore, a crypto savings account shouldn't be considered an alternative to traditional savings accounts but rather as an investment.
However, investors can expect a high yield from saving with a crypto savings account. A traditional savings account yields an annual interest of about 0.1% to 0.6%, but with a crypto savings account, you can earn up to 8.6%.
Factors to consider when opening a crypto savings account
Typically, when selecting a crypto savings account, we are on the lookout for their interest rates and policies on locked funds. Although we need to put these factors in mind, we must consider other integral features before selecting a crypto savings account.
It may be tempting to opt for a crypto savings account that offers a higher interest rate. However, before placing your funds in a crypto savings account, you need to research the security of the crypto savings account. Remember that these accounts aren't insured up by FDIC; therefore, you need to exercise caution. It would be best if you put into consideration the cold storage solutions and financial stability of the institution.
Often, we skip through the terms and conditions of a contract before signing it as it seems all tedious and even boring. However, it is essential that you are familiar with the policies of the crypto savings account and ensure they align with your goals and objectives so that you don't unconsciously violate them. You may also consider having a lawyer or your financial advisor run through the terms and conditions on your behalf.
Cryptocurrency savings accounts have selected cryptocurrencies they allow. There are hundreds of cryptocurrencies in existence, so it is difficult, if not impossible, to find a crypto savings account that supports all cryptocurrencies. If you hold a cryptocurrency, you need to check for a crypto savings account that supports that cryptocurrency. Some crypto savings accounts like Coinbase allow you to purchase from their list of cryptocurrencies. This means you can easily make a purchase if you don't have a cryptocurrency that the crypto savings account supports.
Popular cryptocurrency savings accounts
Users can also enjoy trading on the BlockFi trading platform, where they can buy, sell, or exchange cryptocurrencies at competitive prices. However, BlockFi doesn't have a native crypto token. Users can also be assured of the security of their funds. BlockFi implements two-factor authentication as a security measure and has Gemini listed as custodian of their funds.
Celsius Network provides banking and financial services to its thousands of users, including crypto savings account and lending options. The company offers the cryptocurrencies saved in the crypto savings account as loans to third parties and pays its clients a percentage of the loan interests. Clients can earn up to 12% interest on specific cryptocurrencies, but they can only hold as little as $5 worth of crypto in their account. Clients are allowed access to their funds at any time without attracting a withdrawal fee.
Customers can also enjoy the benefits of CelPay, a product of the institution that allows customers to send and receive crypto at no extra costs. Celsius also offers its customers its native token, CEL, that allows them better interest rates, community membership, among other benefits.
Celsius also has two whitelisted withdrawal addresses, multi-sig, and two-factor authentication included to protect the savings account of its customers. As an extra precaution, the cryptocurrencies of its customers are stored in cold storage.
Nexo is a crypto savings and loans platform. It allows users to earn up to 10% interest on their crypto savings. Clients can also benefit from its loan platforms; however, they would need to take this loan against their digital assets. Users can also enjoy access to its crypto debit card, which is MasterCard powered. Nexo also has its native token, Nexo token, which provides customers a higher Annual Percentage Yield (APY), which can be paid in the cryptocurrencies of their choice. Nexo has its crypto assets stored in cold storage and also protected by two-factor authentication.
Coinbase is popularly known as a crypto exchange, but it also offers its customers a crypto savings account with up to 1.25% interest on USD. However, Coinbase doesn't loan out its users' cryptocurrencies which means they have control over when they withdraw. This makes the Coinbase cryptocurrency savings account a feasible alternative to the traditional savings account. However, Coinbase only offers interest on USD and is yet to expand to other cryptocurrencies.
Crypto.com is similar to Coinbase; however, it offers a broader selection of cryptocurrencies and stablecoins, including Bitcoin, Ethereum, Tether, and TrueUSD. Users can enjoy a daily interest rate of up to 6.5% on non-stablecoins
Final Note
A cryptocurrency savings account offers a platform for crypto holders to earn passive income with little to no risks. It has its limitations in limited withdrawals and no FDIC insurance due to the high volatility of cryptocurrencies. However, these can easily be managed by selecting a crypto savings account that is more users friendly. Although crypto savings accounts are not direct competitors of traditional savings accounts because of their high volatility, crypto accounts like Coinbase take them closer to achieving this goal. In selecting a crypto exchange, ensure that its policies and security measures effectively protect your crypto assets.