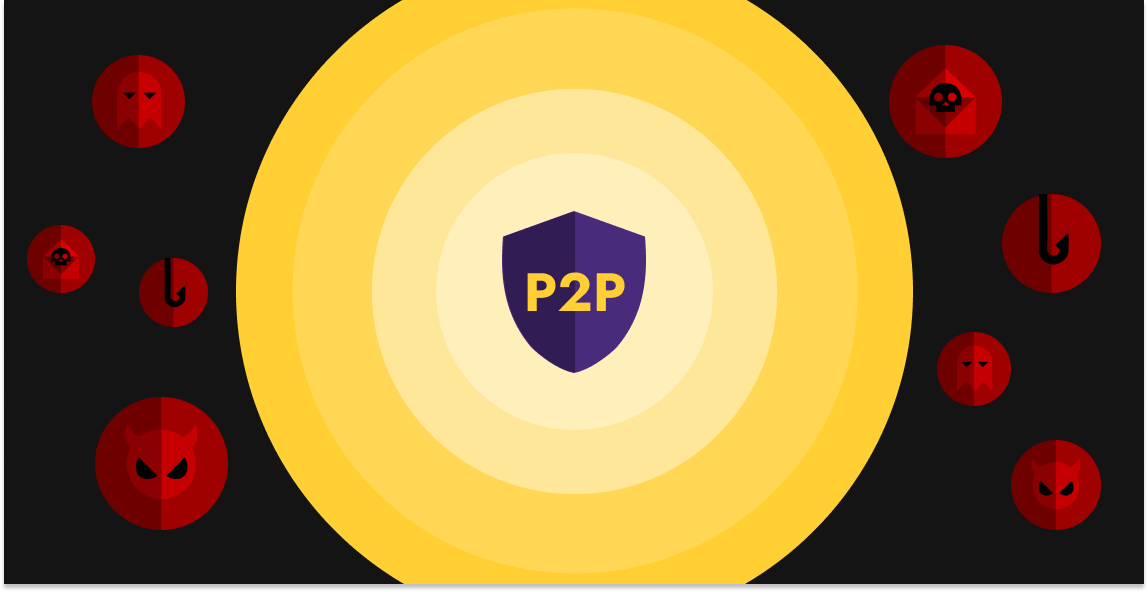 How To Avoid P2P Crypto Trading Scams
6 mins read
Cybercriminals are always looking for flaws on which they can build a successful scam in the crypto industry. The technology on which a P2P crypto trading is built is considered one of the most secured as incurred transactions are being recorded in the blockchain. Despite some form of security that P2P crypto trading has, scammers always lookout for ways to defraud individuals of their financial resources. 
Scammers who pose as traders in P2P trading platforms defraud people by trying to bypass the normal process of trading on the platform. They usually try to trick individuals into making payments while failing to meet up to their part of the transaction. 
What Is P2P Crypto Trading 
P2P (Peer-To-Peer) crypto trading is the act of buying and selling cryptocurrencies between two users. Coins such as tether, ethereum, bitcoin, litecoin, and others are sold by buyers in exchange for fiat (local currency) or its equivalent. When P2P crypto trading is carried out on a crypto exchange or platform, the exchange acts as an escrow to make sure that both the buyer and the seller fulfil their part in the transaction. A trusted crypto exchange is fundamental in preventing a P2P crypto trading scam and a platform like Yellow Card is one of the most trusted brands for a P2P exchange. 
Factors That Birthed P2P Crypto Trading 
Many things led to many people embracing the Peer-To-Peer method of buying and selling cryptocurrencies and this includes:
Cryptocurrency Trading Ban In Some Countries:
Another reason that gave birth to P2P crypto trading is the security that is associated with this method of buying and selling crypto. At Yellow Card P2P, the platform acts as an escrow to make sure that there is no scam in the course of the transaction. This is safer than doing the transaction with a total stranger on the internet.
Unlike the traditional exchange, P2P crypto trading gives you a variety of buyers at different rates. There is no rigid price or personality involved in the process because you have the choice choose between many traders. This helps you buy at the best available price.
P2P trading gives you a sense of control, unlike the traditional exchange where you choose according to the terms of the platform. You have control over the price you want for the crypto you want to buy or sell and also your preferred form of payment.  
Pros Of P2P Crypto Trading 
Here are some of the advantages of selling and buying cryptocurrencies using the Peer-To-Peer method. 
One of the pros of P2P crypto trading is that there is no rigid communication before a transaction is made. This means that you can chat with the person you want to buy or sell your crypto in real-time to clarify payment methods and any other thing. 
P2P crypto trading provides users in a global market by accepting multiple local currencies. Platforms like Yellow Card give you access to buyers and sellers from more than 16 different countries within Africa. 
Another pro of P2P crypto trading with Yellow Card is that it offers excellent customer support even in your local language. If any issue should come up in the course of trading P2P, you can easily contact customer support to settle them. 
Peer-To-Peer crypto trading offers some sort of security when you are carrying out the transaction. For instance, if you are making use of Yellow Card P2P, the platform makes sure that both the seller and buyer are satisfied and not cheated in the transaction. 
Unlike the traditional crypto exchanges, you don't need to pay any form of transaction fee to the platform. Users of a platform can buy and sell cryptocurrencies without having to pay fees in the process. 
Diversity of Payment Options:
One of the major ways that most traditional crypto exchanges collect payment from users is through credit or debit cards but that is different with P2P. For instance, in Yellow Card, users can have so many ways for paying for cryptocurrencies such as debit and credit cards, or your local bank transfer.
Cons of P2P Crypto Trading 
Here are some of the setbacks that are faced when trading crypto Peer-To-Peer. 
One of the cons of P2P crypto trading is that sometimes the trading speed may vary because of the two individuals involved. Sometimes either the buyer or the seller may change their mind on a particular midway and the whole transaction will come to a stop. 
Compared to centralised exchanges, some P2P exchanges have lower liquidity and large traders may prefer to make use of OTC (over-the-counter) trades because of this. 
Although this occurs mostly if you make use of an exchange that is not trusted or accepted to carry out the transaction outside the platform, there can be scams when doing P2P trades. Though this is one of the major cons of P2P crypto trading, it does not happen on secure platforms like Yellow Card.
How To Avoid Being Scammed When Trading Crypto P2P 
Here are some of the indicators of scam transactions or individuals when trading cryptocurrencies Peer-To-Peer. 
Avoid If There Is No Refund Policy:
When there is no refund policy in the P2P exchange, it is one of the major things that indicate that there may be an occurrence of a P2P crypto trading scam. A P2P exchange is supposed to act like an escrow that will make sure that there is a refund in case a seller does not keep to the agreement. 


Be Wary Of Low Number Of Successful Trades:
The number of successful trades should be able to tell you if the seller should be trusted or not. The credibility of the seller majorly depends on the reviews and the successful trades out of the total number of trades carried out. If you can't verify the trading activities of a merchant, it is a number one indicator that the seller may not be authentic. 


Don't Carry Out Trades Outside The Platform:
Another mistake that individuals make is that they agree with a seller to carry out trades outside of the exchange. This is one of the major ways individuals are scammed and should be avoided at all costs. You can report the seller to customer support if you are being forced to take the trade outside of the platform. 


Avoid Platforms That Don't Have a Social Media Presence:
Another red flag to look out for when choosing a platform to carry out Peer-To-Peer trading is the absence of social media presence. A P2P platform should have a connection between its users on different social media platforms. Do well to check out Yellow Card on all social media platforms. 


Poor Ratings On Appstore or Playstore:
One of the places you can get an honest review about a P2P platform is one Playstore or its equivalent. When a P2P exchange has a very poor rating in this place, then it is another indication that it may not be trusted. A P2P platform should have at least a 4.0 out of 5.0 rating on Playstore to be considered credible. 
Conclusion 
Peer-To-Peer crypto trading is the process of trading cryptocurrencies between two individuals on a crypto exchange. Sometimes there are scammers on these platforms who are posing as sellers and people do fall for their scams. Looking out for indicators of a scammy P2P trade can help you avoid being scammed with your funds. No refund policy, low number of successful trades, and low rating on Play Store or its equivalent are some of the indicators that an individual or a P2P platform may be fraudulent.