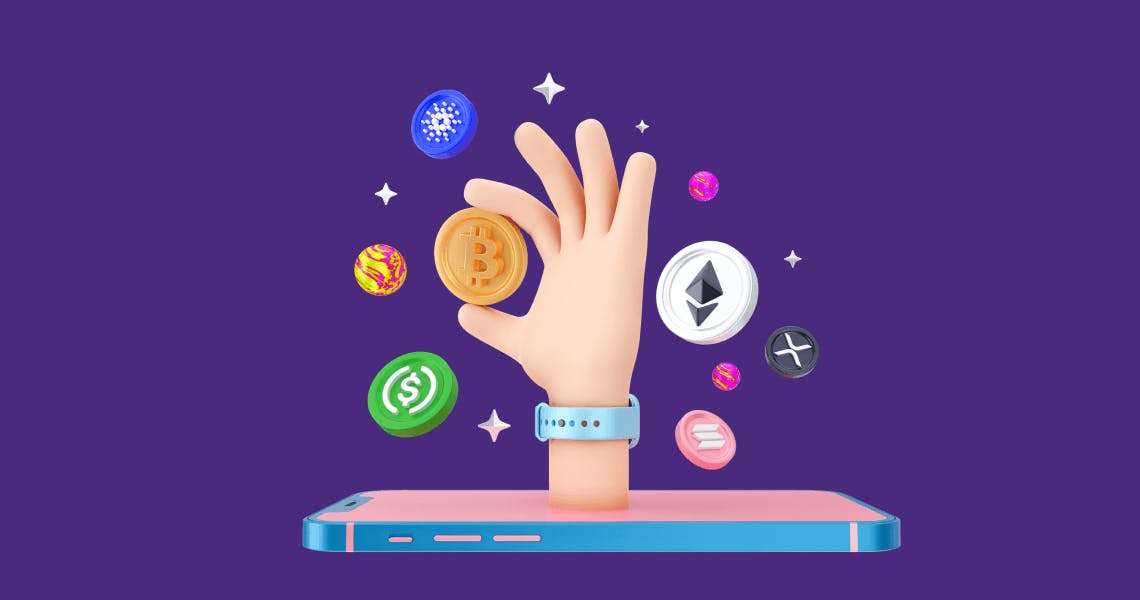 How To Choose The Right Crypto Exchange For Trading
5 mins read
Choosing the right cryptocurrency exchange is of great essence to any crypto trader or investor. 
While some crypto exchanges allow you to store your cryptocurrencies on their platform, the ability of a cryptocurrency exchange to secure and provide easy accessibility to your asset is important. 
When looking for a crypto exchange for trading, several factors should be carefully considered: we discuss the most important factors below:
Crypto Exchange Fees
Crypto exchanges for trading always charge a fee whenever a trade is made. It is crucial to have a closer look at the fees that are charged by the crypto exchanges before committing to one.  
Since the fees and method of charging are determined internally, they usually differ from one platform to another. To increase the expansion of their platform, even the best crypto exchanges charge a percentage of every trade; the only difference is that the fees great crypto exchanges charge are lower. 
Next are withdrawal fees. There are withdrawal fees and limits that using a platform for trading attracts, so traders should take these into account before signing up. It is important to note that having the lowest rate possible doesn't always mean the exchange is legit. There have been cases where crypto exchanges with lower fees have engaged in exit scams, thus resulting in losses for the users. It is, therefore, advised that the reputation of the right crypto exchange for trading should be factored in before deciding to use them. A very good example of a credible and licensed exchange with low trading fees is Yellow Card.
Security Of Crypto Exchange 
Hundreds of billions worth of cryptocurrencies are always traded in crypto exchanges, and this easily makes them a target for cybercriminals. During the first half of 2018, there were at least four successful crypto cyber attacks, which culminated in a loss of more than $750 million. Thus, before choosing the right crypto exchange for trading, carefully evaluate how secure the crypto exchange is.
The best crypto exchanges for trading make it a priority to ensure that they have put in place various measures to secure the assets of their users. Some include remediation, data collection, cold storage, asset reserves, as well as custodial storage services.
As their reputation rests largely on the safety of their platform, some exchanges work with highly experienced cyber-intrusion detection analysts and investigators and perform in-depth intelligence as well as forensics activities to ensure effective resolution of any kind of security incident.
The safest crypto exchanges for trading protect their users from any form of security breaches or fraudulent activity. There are usually updates from exchanges informing users of safety and security protocols on their platforms; new users should watch out for these. 
Two-factor authentication (2FA) and multi-factor authentication (MFA) is an extra layer of security that should be considered when choosing the right crypto exchange for trading. To ensure your security, read current and extensive unbiased reviews of the product from the users.
Crypto Trading Volume
Availability is something that makes trading easy for crypto traders; the volume of people that are available for trading crypto and liquidity should be a yardstick when choosing a crypto exchange for trading. When there is a little volume of traders available in a crypto exchange, it can lead to an increase in fees and prices and cryptocurrency traders will now have to pay more than necessary. 
There are crypto exchanges that limit the number of people who can trade at any point in time. There are also crypto exchanges that limit the assets being traded. New traders should consider these while selecting the right cryptocurrency exchange for trading.
Cryptocurrency Prices
Since cryptos are decentralized currencies, their prices differ from one exchange to the other. This could be brought about by a difference in location and volume, among other factors. Users should check the prices and ensure that they are okay with them before choosing a crypto exchange.
There are some cryptocurrency exchanges whose price of bitcoin might be higher than the real-time price of bitcoin. When choosing the right crypto exchange for trading, it is recommended to compare prices and eliminate those that have higher prices of coins. Yellow Card boasts one of the best Tether rates. 
Robust Cryptocurrency Selection
Most traders always look at the asset selection of the crypto exchanges. The top digital coins like bitcoin, ethereum as well as litecoin should be extensively available on several crypto exchanges. However, the other smaller cap coins might not be available on some of the exchanges. As a result, it is important to know the kinds of coins that a crypto exchange offers.
When choosing the right crypto exchange for trading, it is important to select the one that has a wide range of products and leveraging that you need.
 Crypto KYC Process (Know Your Customer) 
Finally, traders should always check various aspects of the Know Your Customer (KYC) process of the crypto exchanges. Several traders like it when it is very easy for them to upload their KYC documents. They also prefer quicker approval processes. Usually, as long as the client submits all the necessary documents that are requested, the approval process should be fast but to be safe, users can also read reviews from previous users to determine the best crypto exchanges for trading.
Conclusion 
A crypto trader must treat trading as a business, and one should consider all factors while choosing the right crypto exchange for trading. From a proper introduction to the crypto world to opening an account on a crypto exchange platform to making sure your funds are safe, every step matters and should be carefully considered.