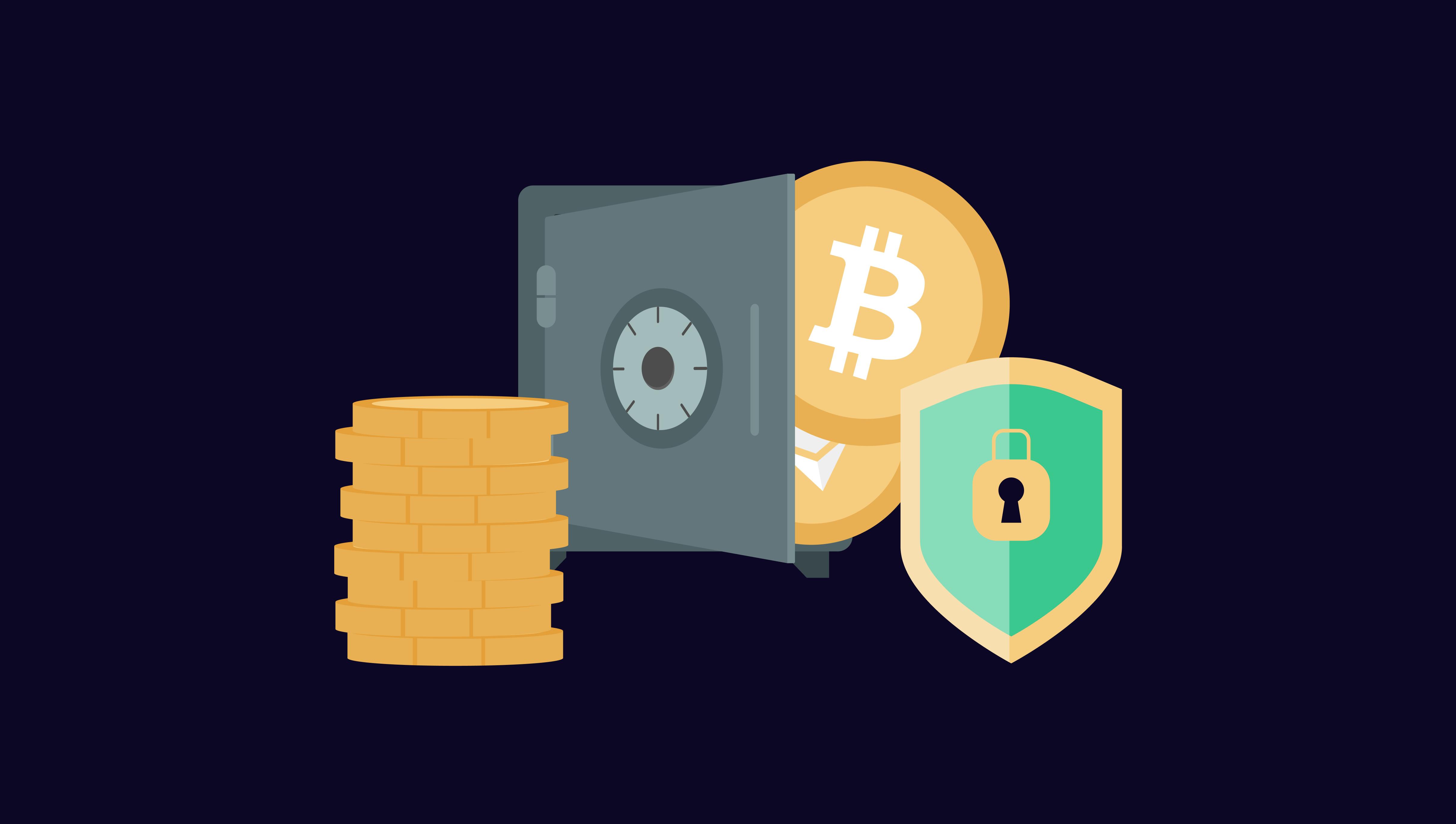 5 Ways to HODL Your Crypto Securely
6 mins read
Trading and investing in cryptocurrency are both popular ways to gain profit and generate wealth over time. However, buying cryptocurrency and learning how to trade crypto is not where you stop. Securely storing your cryptocurrency until you need it is also an integral part of crypto trading. 
Cryptocurrency is often locked in a digital wallet, which means it cannot be removed physically. However, there is a need to secure the details of this digital wallet to ensure that you don't lose track of your investments. This is why you must understand how to store your cryptocurrency in your digital wallet securely.
What is a crypto wallet?
A crypto wallet is built for the same purpose as a physical wallet; that is, it allows you to store or HODL (Hold On for Dear Life) your cryptocurrency. You can buy, sell and receive cryptocurrency using this digital wallet. The wallet holds a private key that allows you to complete transactions on the cryptocurrency network. You can easily open a crypto wallet using Yellow Card; all you have to do is log in on the Yellow Card website or download the mobile app available on iOS and Android. You can do this without having to include your bank details. 
Often, beginners are lulled into a false sense of security because the cryptocurrency blockchain is largely secure and free from tampering. In truth, your bitcoin can not be stolen from the blockchain, but access to them can be taken from you. This is why you must secure your digital wallets to prevent lost or stolen keys.
How to secure your cryptocurrency
The recent rise in the value of bitcoin and other cryptocurrencies has increased interest in the cryptocurrency field, with many hackers seeking to get their hands on these valuable assets. People around the world have also reported lost keys due to forgotten passwords or computer failure. However, there are specific steps you can take that are helpful to secure your cryptocurrencies, which include:
1. Encrypt your wallet
It is essential that you set up a digital wallet with two-factor authentication (2FA). Using two-factor verification provides your wallet with additional security against hacking and malicious software. You would be required to verify before completing transactions like buying or selling cryptocurrency. You would receive a prompt immediately after this action is taking place to ensure that you are accessing your account and not a hacker. This would provide additional security to your digital wallet. 
Apart from ensuring that your wallet is protected with 2FA, it is important that you encrypt your digital wallet. Encryption requires that you set up a unique password to validate actions on your wallet. Your account would lock up immediately if an outside source attempts to complete a transaction on your account.
When setting up 2FA, encryption, or a password on your digital wallet, you should use a random, long, and unique password that is specific to that account. Avoid using the same password for all your accounts. You should also avoid using common phrases or details particular to you for your passwords - this will help you keep your crypto assets secure.
Hackers can access your account using details from your life to guess your password to hack your account. It is also a good practice to change your password periodically. However, ensure that you keep a record of this password so that you do not lose access to your account. Password managers like LastPass and Biwarden help you generate strong passwords and keep them safe.
2. Be cautious of malicious software
Cybercriminals often use deceptive links and malicious software to gain access to the digital wallets of others. They aim to lure unsuspecting individuals into these websites to steal their account information and sometimes crash your device. Clicking on these links would put your cryptocurrencies at risk.
You should be cautious with your online activity and verify the site's status before inputting any of your details. Cybercriminals may also clone websites with similar URL addresses to verified crypto exchanges. You should verify the information on the website first before proceeding with any transactions.   
It is also a good practice to update the software on your device regularly to fix bugs that may put your wallet at risk. You can turn on the update notification on the device or set it to automatically update to stay informed of software updates. 
It is also crucial that you steer clear of public Wi-Fi when you are using your account. Public WiFis, although often fast, free and accessible, also have an insecure connection that hackers can easily manipulate and steal your details from. It would be best if you used your personal hotspot, especially when operating your crypto wallet or your bank application. You should also ensure that your Bluetooth connection is turned off to prevent hackers from accessing your account through your Bluetooth connection. You may also set up a Virtual Private Network (VPN) to ensure that your internet connection is secure from hacking.  You can set up additional security for your device by installing anti-virus software on your system.
3. Select a verified exchange or digital wallet provider
It is essential that you take time out before selecting a crypto exchange. You need to carefully research their security practices, operations, and testaments from previous and present users before choosing a crypto exchange. With a large number of crypto exchanges, you may get lost in the swirl of many promises they offer their clients.
However, you need to take note of their security practices such as 2FA, encryptions, multi-factor authentication, and backup policies to select the best crypto exchange for you. Yellow Card remains one of the best crypto exchanges dedicated to keeping your cryptocurrencies secure with numerous security features put in place.
4. Ensure your Crypto wallet is backed up securely
It is vital that you backup your bitcoin wallet immediately after setting it up and as often as possible. A regular backup would help to secure your information in a situation of a device failure. It is vital that your backup is also protected with a password. You can back up this data on an external file like a USB.
Backing up your wallet allows you access to your bitcoin exchange address. Some crypto exchanges like Yellow Card have the cryptocurrencies of their users securely backed up. Users can recover the details of their wallets in a situation of computer failure or forgotten passwords.
5. Stay informed about Phishing
Phishing is a form of security attack in which hackers pose as a trusted enterprise to steal your private details. This is one of the most popular security threats that crypto traders and other web users are victims of. You must not negotiate or reveal your information to a person or individual claiming to be a representative of an exchange platform.
It is best to contact the service provider's official customer service to confirm that your personal details are required first. You could also bookmark Yellow Card on your device so you won't have to search for the link every time; this would safeguard you from falling victim to cloned websites.
In conclusion...
In June 2020, hackers were able to get away with about 12 million dollars worth of bitcoin using Elon Musk's name among notable individuals. They promised to double their bitcoin; however, to date, their bitcoin remains lost. You may also consider using cold wallets and paper to HODL your crypto; however, this may prove ineffective for active traders.
Setting a multi-sig wallet as an organisation would help secure your account as hackers need to get all the signatures to unlock the account, which is almost impossible. Implementing these strategies would help ensure the security of your cryptocurrency, allowing you to trade or invest without worry.