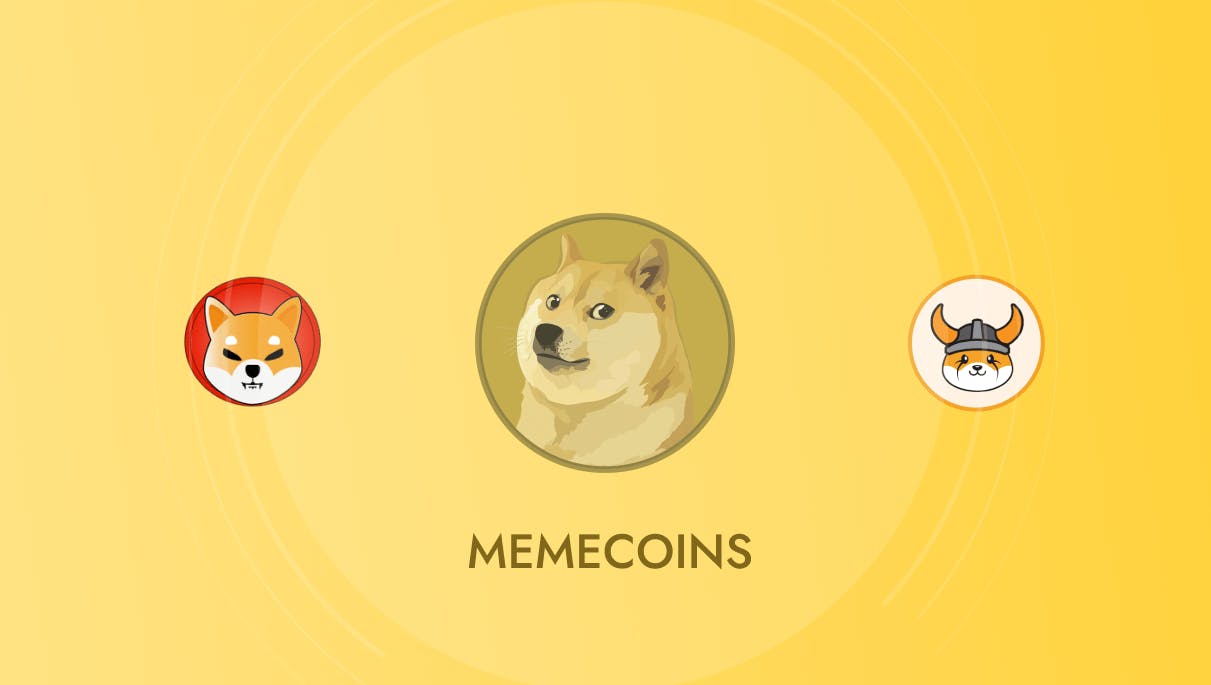 What Are Meme coins? 
5 min read
Have you ever imagined a cryptocurrency inspired by an internet joke, funny videos, and other media? That is what most meme coins are. They are not like Altcoins such as Cardano, Ethereum, and Solana, which have a solid project behind the coin's existence. Heavy price fluctuations usually characterize them usually characterise it, making investing in it a very risky endeavour. 
Dogecoin and others like Safemoon and Shiba Inu are some of the top meme coins, usually with an unlimited supply, unlike the altcoins. Their popularity usually drives the price of these coins in pop culture, and it is typically hard for their price to appreciate after a dip. Let's see the meaning of meme coins in more detail.
What Is a Meme Coin? 
A major characteristic of this category of cryptocurrency is the price. The price tends to change with more swings than bitcoin and established altcoins. While various reasons may cause these swings, its lack of solid fundamentals and utility is usually the core reason. 
An excellent example of this was when Mark Cuban and Elon Musk promoted Dogecoin on their different pages on Twitter. Its value went up within that period, and Dogecoin recorded its ATH (all-time high). One thing with meme coins is that once the promotion and hype from its influencers die down, the price also crashes drastically. 
Another thing that differentiates meme coins like Dogecoin from other cryptocurrencies is that they usually have a large or unlimited supply. Dogecoin has more than 100 billion tokens in circulation and does not have a maximum supply. Its major rival in the top meme coins, Shiba Inu, has about a quadrillion token supply. This is why their prices are usually very low, and you can use $1 to buy thousands or millions of meme coin tokens. 
How Do Meme coins Work? 
Like bitcoin and other altcoins like ethereum, meme coins also work on blockchain technology. Ethereum and Solana blockchains are the major blockchains where meme coins are found. There are so many meme coins now because different technologies are now available to help developers create them very fast, unlike before. More than 200 meme coins are floating on the Ethereum and Solana blockchains. 
Due to the nature of their unlimited supply, which causes high volatility, people mostly buy meme coins to trade them. They can only be traded because, as said before, they don't usually have a project that backs them up. You can't use them in a DAO nor stake them. Investors mostly look out for them during their pre-listing stage and when their price is low to buy and sell when it is high. 
Top Meme Coins In The Crypto Market 
Among the numerous meme coins that are found in different blockchains, there are still those that growing in market value, and this includes:
Dogecoin was created by Billy Markus and Jackson Palmer (software engineers) in 2013 as a joke cryptocurrency of Shiba Inu (a Japanese dog). Dogecoin makes use of the Proof of Work (POW) protocol, and just like top meme coins, it does not have a maximum supply. 
Dogelon Mars (ELON) is one of the top 10 meme coins and was created to pay homage to Elon Musk and its SpaceX company. More than 557 trillion tokens are in circulation, and it makes use of the Dogecoin fork. 
Shiba Inu is the main rival of Dogecoin and was created by Ryoshi (anonymous) in 2020. It is known as the Doge Killer and has a limited supply of 1 quadrillion tokens. The ecosystem of Shiba includes an exchange, an NFT game, and an NFT incubator and this puts it in the top 10 memes coins list. 
Akita Inu (AKITA) was created in February 2021 on Uniswap as an ERC-20 token. AKITA followed in the footsteps of Dogecoin, also known by its community members as another Doge Killer, and has a total supply of 100 trillion tokens. About 50 per cent of the total supply of AKITA is locked on Uniswap by the team behind the meme coin. 
Other popular meme coins include SafeMoon (SAFEMOON), Samoyedcoin (SAMO), Floki Inu (FLOKI), and Kishu Inu (KISHU). 
Any Future For Meme Coins?
Frankly speaking, it is a yes and a no. Most notable successes in the crypto space thrive on community acceptance and enthusiasm. Meme coins are joke cryptocurrencies created without any solid project behind them. However, we're seeing corporate acceptance for some with Elon Musk standing behind Dogecoin always. For something inspired by internet jokes, they are highly volatile compared to bitcoin and other altcoins. Some popular meme coins include SafeMoon, Dogecoin, Shiba Inu, Floki Inu, and Kishu Inu.