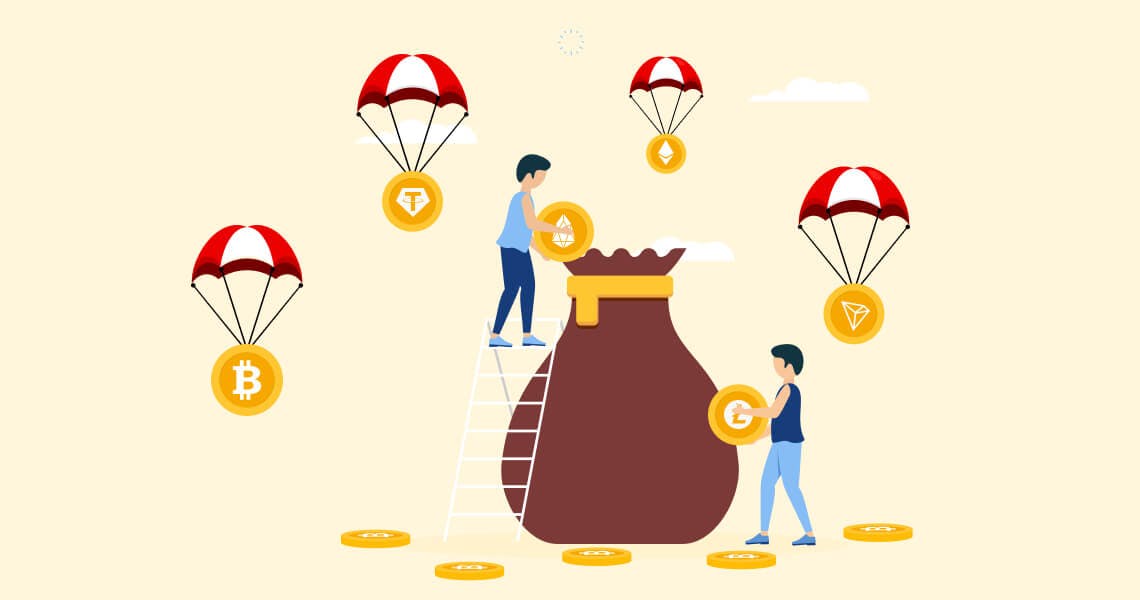 What Is An Airdrop?
6 mins read
Airdrops are primarily free coins sent directly to your wallet. If you are quite involved in the crypto space, you must have heard this term before, and you are probably wondering what they are and how you can benefit from them.
Well, cryptocurrency airdrops are a popular market strategy employed by blockchain-based startups to promote awareness of a digital coin or token. Cryptocurrency airdrops are sometimes compared to a crypto giveaway because small tokens are sent to active wallets for free and sometimes for promoting the token. However, airdrops are usually done to promote new digital tokens.
Airdrop refers to the distribution of digital tokens to the public either for free or as an incentive for completing a task on a blockchain. Some platforms may also airdrop governance tokens to confer voting rights to digital asset holders on the platform. 
Airdrops are sometimes mistaken for ICOs; however, they are very different. This is because you must have previously purchased an alternate coin or token before you can benefit from an ICO. However, airdrops don't require any purchase from the benefactor. Yet, terms and conditions may vary to benefit from an airdrop. Typically you may be required to hold a certain amount of crypto in a public wallet or promote the cryptocurrency via a promotional tweet. 
What is the purpose of an airdrop?
The primary purpose of a crypto airdrop is to promote awareness of the digital token to get more people to trade it. Airdrops may be promoted on the company's website or via other crypto forums. 
It is important to note that a legitimate crypto airdrop doesn't require capital investment in the currency. Its aim is purely promotional. However, it is vital to be on the lookout for unsolicited deposits into your crypto wallet to protect your wallets against dusting scams.
A dusting attack is when a small amount of cryptocurrency, known as dust, is distributed to thousands of wallet addresses. The attacker keeps an eye on you as you spend funds from your wallet, waiting for you to spend the dust.  This scam is run to track down these addresses in order to "unmask" or de-anonymize them and may also be used for a phishing scam.
What are the different types of airdrops?
Airdrops are conducted to promote a digital token but may exist in different formats, which include; 
Standard airdrop 
The standard airdrop typically involves signing up for an account with the new project. You will be required to provide your wallet address to receive the tokens.

Exclusive airdrop
As the name suggests, an exclusive airdrop is exclusively for a sect of people who have previously followed the project or been active members of the project. For instance, a VIP member of a website or a crypto project may enjoy exclusive airdrops opportunities. 

An example of an exclusive airdrop is Opensea's distribution of SOS tokens for NFT creators, collectors and enthusiasts who had previously made transactions on the OpenSea NFT marketplace. 

Holder airdrop
Benefactors of this airdrop must hold a certain amount of another cryptocurrency in their wallets, e.g. BTC or ETH. You will be required to verify your crypto holdings to claim the tokens. The crypto project takes a record of your crypto holdings at a particular period and distributes tokens based on ownership.

An example of a Holder airdrop is the LOOKS airdrop by the LooksRare team. Users with over 3 ether in transactions on OpenSea between June 16, 2021, and Dec.16 2021, were eligible to receive the tokens.

Bounty Airdrop
In order to benefit from a bounty airdrop, you are required to engage in some promotional activity such as signing up for the project newsletter, joining a discussion profile, sharing a post on social media platforms, and much more. 

Hard fork Airdrop
When a hard fork occurs, holders of the original coin may receive the new coin's airdrop. 
How can you become eligible for a crypto airdrop?
Crypto airdrops are a great way to add to your crypto portfolio. However, each airdrop has different requirements to qualify for an airdrop that are mostly easy to meet. In order to stay informed on airdrops and meet qualifications, you should:
You can start by performing regular searches online for crypto airdrop opportunities. 

Follow airdrop collectors or cryptocurrency-related forums and check social media for airdrop opportunities and sign up for their newsletters. 

Monitor and follow upcoming projects in preparation for bounty airdrops. 

Running an active crypto wallet is essential as it is a common criterion for claiming an airdrop. As much as possible, use various crypto services, products, platforms, and blockchains.
It's easier to take advantage of an airdrop if you stay informed and take advantage of possibilities as they emerge.
What are Airdrop Scams? 
Airdrops are free coins, and because of the attraction of free money, many investors would often sign up for airdrops. However, this has also attracted fraudulent minds who have come to use airdrops to scam people of their hard-earned funds. Some of these scams include: 
Dump Airdrop
Dump airdrops are simply a pump and dump scheme. Creators create a hype around the cryptocurrencies, and once interest grows and the value of the tokens rises, they dump the tokens for a nice profit. Once the tokens have been dumped, the developers disappear from the face of the earth. 

It is crucial to conduct proper research on airdrop projects before signing up for an airdrop. A good practice is to read the whitepaper to see if the project brings any real value to the ecosystem. You should also consider looking up the developers and their previous projects and check to see how they have fared in the last few years. 

Private Key Scams
A private key scam is run to gain access to your private key and subsequently dupe you of your funds. Airdrop scams would ask you to provide your private keys during sign up. Your private keys are yours alone and should not be shared with anyone. Legitimate airdrop projects would only request for your public key (wallet address) to send you the tokens. 

Information Trolling
Some airdrop scams are conducted to access your personal information, such as your email and social media accounts. This information is shared with marketers who proceed to spam you with their marketing content. Some may even use the information to attempt to phish you. 

Bait and Switch
The idea of a bait and switch is to trick investors into signing up for partner airdrops while signing up for one, so they can earn from referrals. They may even get you to sign up for a pump and dump airdrop. While often this may not cost you any funds, it can be a waste of time and can be rather exhausting.
How to Protect Yourself from airdrop scams
Airdrop scams can be easily spotted if you remain on the lookout for warning signs. To protect yourself from airdrop scams, you should:
Always do your own research: Conducting thorough research will judge whether the airdrop is legitimate and protect you from phishing scams

Never reveal your personal information: Avoid sending out information that can be used to access your wallets, such as your private keys, email address, date of birth etc.

Be cautious not to interact with unknown sources: Several airdrop scams run on fake sites that copy details of legitimate cryptocurrencies. Before dropping your details on the website, ensure that it is from the official sites of the crypto startup.
Conclusion 
Airdrop is an opportunity that allows crypto startups to promote their products while also allowing users to earn money. If you're a crypto enthusiast who enjoys keeping up with new developments and actively maintains your portfolio, airdrops are worth pursuing. However, it is essential to exercise caution to protect yourself from crypto assets