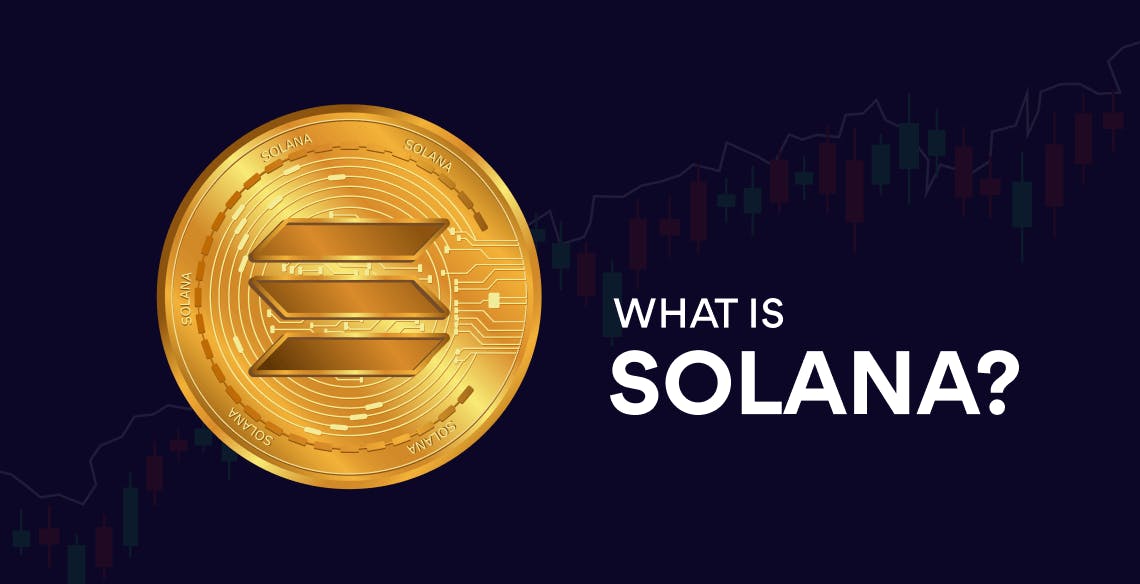 What is Solana (SOL)?
5 mins read
Ever heard of Solana before? Well, you'll discover what it is soon. There is no doubt that blockchain has taken the world by storm. Several blockchains have been developed after Bitcoin to solve the shortcomings that Bitcoin blockchain possesses and these blockchains include Dash, Bitcoin Cash, Ripple, Monero, and Litecoin. However, none of them compares with the amazing features of the Solana blockchain, especially in terms of transaction speed.
Ethereum remains the leading smart-contract enabled blockchain that has proffered revolutionary technology to enable developers build financial applications on the blockchain. It has also enabled users to carry out a variety of financial transactions such as DeFi. However, with lots of shortcomings of which some of them are low transaction speed and high gas fee.
The Solana Blockchain network is very unique as it is still very early and solves big problems. Many experts believe it will be the next big thing in blockchain technology, and something you should be keeping an eye on for the future as it promises to disrupt DeFi as we know it. 
In this article, we will be having a look at the details of the Solana blockchain and what makes the Solana Blockchain network more appealing to users than its counterparts.
What is Solana?
The Solana blockchain network is an ultra-high capacity and low-key blockchain network that is scalable enough to be useful for handling thousands of validated transactions per second. Solana provides a solution to the problem of blockchain congestion which enables a new wave of transactional applications like decentralised exchanges, gaming platforms, lending protocols, escrow mechanisms, and payment channels.
Solana blockchain has created a unique blockchain technology that is meant to solve problems that other cryptocurrencies and blockchains have. This includes claiming to have speeds 1,000 times faster than Ethereum and Bitcoin blockchain.
Solana blockchain network was developed to address the high transaction fee especially when the blockchain network gets congested and low transaction speed that usually occurs in the Ethereum blockchain.
Who are the Founders of Solana
His experience as a software engineer while working at Dropbox using compression algorithms gave him the much needed experience to take on the Solana idea and make things faster.  In light of the Solana vision, the Project has other members of the founding team including Eric Williams (Chief Scientist) and Greg Fitzgerald (Solana CTO).
He started the blockchain project with some of his colleagues from Qualcomm to launch Solana labs in November 2017, which now birthed an idea to develop a high throughput blockchain.
How Does Solana Work? 
What the Solana blockchain network employs are two different ways to ensure the confirmation of transactions on its blockchain network.
These operations are referred to as consensus mechanisms and include "Proof Of Stake" and "Proof Of History".
These two ways, also called consensus mechanisms, are agreement protocols used to achieve the scalability and low transaction fee that Solana blockchain claims to offer.
Proof of stake consensus mechanism is a better method of verifying transactions on a blockchain network compared to "Proof Of Work" used in Ethereum and Bitcoin blockchains.
This is because while anyone that wishes to verify transactions on Bitcoin or Ethereum blockchain must possess high computational power, the Solana blockchain proof of stake mechanism allows anyone to be able to verify/validate transactions on the blockchain network based on the amount of the blockchain native token that they have staked and how long the token has been staked.
Those who verify transactions on proof of work consensus blockchain are called "Miners" while transactions verifiers on Solana blockchain are called "Validators"
What Makes Solana Unique?
Solana also has another consensus mechanism that is similar to the proof of stake which is "Delegated Proof Of Stake". This is a consensus validation process that enables every user of the blockchain to participate in maintaining the blockchain network by delegating the Solana blockchain native token (SOL) to a certain validator while they earn interest on the delegated token.
The proof of history consensus mechanism is another feature that makes the Solana blockchain more appealing and a blockchain of choice for developers.
The proof of history is one of the major factors that enable fast transactions in the Solana blockchain, it's one of a kind of computational sequence that records the time of transaction as well as help users schedule time as well as work by time registry for transactions. 
This technology can simply be likened to a system where tasks can be drafted in shifts that will be automatically executed. 
With this, validators are now given slots ahead of time within the cycle of the transactions. This means that each slot has its own time in which one validator can verify and then produce a block, continuously. That way, the next validator which had also been assigned a slot will start from where the previous validator has ended his transaction verification based on the timing cycle and also then produce their block of task confirmation. 
This reduces the load of work on the blockchain network by a single validator thus, the scalability in the Solana blockchain. In other blockchains like Ethereum, everyone has to stand in a queue and wait a turn for execution which makes it slow. To make things faster and jump the virtual queue, gas fees are required which makes it costly to operate on. 
Solana is a blockchain that can achieve the same transaction capacity as Visa. The platform currently functions at an impressive speed of 50,000 transactions per second or tps while tracking these operations using Proof-Of-History or PoH technology as mentioned earlier. 
While Solana can handle over 50,000 transactions per second, its average transaction on the Solana blockchain costs around $0.00025. This is a huge relief unlike the Ethereum blockchain where the gas fees can go up into hundreds of dollars.
Solana as a cryptocurrency (SOL)
SOL token is the native token of the Solana blockchain, it is a cryptocurrency that powers the Solana blockchain.
SOL is used to make transactions in the Solana blockchain and also serves as a requirement to run operations on the blockchain. SOL tokens can be staked to earn rewards and also used to provide liquidity to a pool in the blockchain which is a passive source of income for users. 
It has a market capitalization of $29B and a total supply of 511,616,946 SOL, with 320M SOL in circulation as Q1 of 2022 comes to an end. 
This shows much belief in the project and its futuristic potential. For those that bought it when it was initially released in April 2019 and traded at 0.55 cents per coin, they would have enjoyed over 45,000% increase to date.
Popular Exchanges You Can Trade Solana (SOL)
If you trade bitcoin, then you might be familiar with the ease of controlling your finances in cryptocurrency.
Trading Solana is equally simple. As one of the most and fastest growing blockchains in the Crypto space, Solana's token called Sol can be purchased in various exchanges such as Binance, Coinbase, Bybit, FTX, Kraken, and Uphold. 
Here is a simple procedure on how to buy SOL on Coinbase;
Open a Coinbase account. 

Download the Coinbase app and start the sign up process

Simply add a payment method

Use the search bar to search for the token

Select Solana from the list of assets

Enter the amount you want to buy

Finalise your purchase
Solana Potentials And Reviews
Due to its fast speed, the Solana blockchain currently can achieve the same transaction capacity as Visa. At an impressive speed of 50,000 transactions per second or tps, it is very commendable.
Solana blockchain technology is based on the principle of sharding, where the blockchain is divided into smaller chains that move data faster making for its speed. 
Due to the vast popularity of the Solana network, the popularity of its native coin, sol, has gone up massively. This still makes it a good investment opportunity for any crypto enthusiasts. 
Futuristic Possibilities
Solana remains home to many blockchain innovations including Dapps and NFTs. Within its short span of existence, Solana currently has over 350 DApps which indicates the potential of the blockchain network. Solana is also mostly preferred for NFTs and DeFi applications with Larix, Serum, and Raydium some of the most popular apps built on the Solana network.
To improve massive adoption of its ecosystem, Solana has partnered with WebAuth, a cryptography infrastructure company to integrate easy access among all the DApps in its ecosystem without the rigorous demands for seed phrase. 
Seed phrases are 12-24 word codes a person is supposed to remember and use when connecting to their wallet for various applications. With the Solana Torus wallet, the easy access to all the DApps improves more adoption of all its applications. 
Solana has also been a winner in the NFT space with many of its NFT market places gaining massive use and adoption. These include Magic Eden, Solanart and Solsea etc. 
Solana is truly the future.