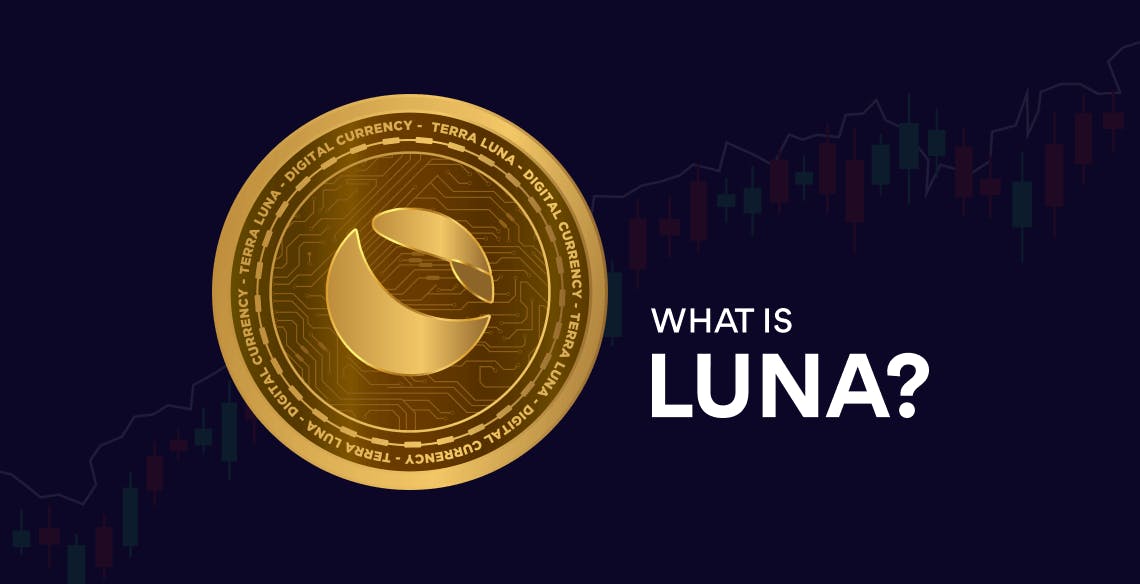 What is LUNA?
6 mins read
Terra's native token, LUNA, was launched in 2019. It became quite popular in 2022 with new developments on its blockchain and was even able to attain a position among the top ten cryptocurrencies by market cap. With increased publicity about LUNA, many are curious about the token, how it works, and its usefulness in the crypto space and traditional financial system.
What is LUNA?
LUNA is the native coin of Terra, a blockchain technology developed by Terraform Labs, a Korean firm, in 2019.  It's essential to understand Terra, LUNA's blockchain, to better understand LUNA.
Terra is a blockchain-based payment network that aims to overcome the drawbacks of stablecoins. It is a payment-focused layer one blockchain protocol. It hosts algorithmic stablecoins, whose value is maintained by its internal algorithms, using smart contracts. 
The LUNA coin is used as a protocol token to lower the volatility of the Terra blockchain's stablecoins. There is a limit of one billion LUNA coins. When a surplus LUNA token is minted, the surplus is burned. 
Brief History of Terra
Terra is a stable price token that can maintain its stability through an elastic money supply. The revenues made from issuing the token are used to reward investors and upgrade its blockchain.
Since its launch, Terra has issued several stablecoins pegged to traditional currencies like US dollars, euro, UK pounds, Chinese yuan, South Korean, won, and the Japanese yen, among several others. One of its tokens, TerraSDR, is pegged to the International Monetary Fund's special drawing rights. All the stablecoins are pegged to LUNA. 
In 2021, Terra activated a series of Colombus-5 mainnet upgrades to its system, which caused a price spike in LUNA. The initial selling price of the LUNA token at its launch was $1.31, but after the upgrade, it rose to an ATH of $49.95 and rounded off the year with an ATH of $103. 33. The Colombus-5 update facilitated the movement of Terra stablecoins across blockchains faster and quicker. Terra achieved this by integrating with Cosmos, a network of multiple blockchains. 
The update also ensures that burnt LUNA tokens remain permanently burned and unusable. This is because developers reinvested previously burned tokens into other DeFi applications. With this update, LUNA tokens remained permanently burned, reducing the number of tokens in circulation, hence increasing its value. 
How does Terra work?
Terra's blockchain technology was built on Cosmos SDK, an open-source framework for building multi-asset public Proof-of-Stake (PoS) blockchains. It has validators who mint and verify transactions on its blockchain for rewards. 
The top 130 active validators with the most LUNA tokens are selected to secure the network. Validators and stakers on the blockchain can also participate in the network consensus. However, their voting powers are proportional to their stake in the blockchain. 
Terra users can access the blockchain network directly with its native wallet, Terra Station. With the wallet, users can easily interact with Terra-based decentralised applications (dApps), swap tokens, and manage their funds. 
How does LUNA work?
LUNA is used as a governance token for staking and acts as the collateral (an asset that stablecoins on the blockchain are pegged to). By staking their LUNA token, validators earn rewards and contribute to the network's protocol. 
For validators to mine LUNA, they must first stake their tokens on the blockchain. Validators with higher LUNA tokens have a higher chance to generate the next Terra block and earn a token. 
Terra is able to retain price stability by adjusting supply algorithmically in response to variations in demand. Once a stable coin is not proportional to its peg, it instantly corrects the value. For instance, If the price of 1 TerraUSD (UST) exceeds the peg price of $1 US dollar, the protocol adjusts by increasing UST supply. It instantly issues and sells some stablecoins on the open market. 
Arbitrage traders can then benefit by trading $1 of LUNA for 1 TerraUSD. The process continues until the initial peg is restored. With this technique, Terra can maintain the prices of its stablecoins. It is important to note that TerraUSD is not pegged to the US dollars; rather, smart contract algorithms determine its price, and its price is maintained with the LUNA token.
What makes LUNA unique?
Fast cross-border payments: Terra stablecoins allow seamless, fast cross-border exchange at the lowest cost globally. Terra has a six-second average block time which allows for speedy transactions across the globe. 

Low transaction fees: Its fees are set at the barest minimum; however, there may be an extra fee for transactions involving stablecoins. This is to maintain price stability as well as discourage foreign exchange arbitrage. 

Interoperable: Terra runs on Terra Bridge, a cross-chain system that enables Terra tokens to be interoperable. Terra tokens can be transferred between Binance Smart Chain and Ethereum, and efforts are underway to support cross-Solana transactions. Terra also runs the CHAI payment software, which allows Terra's users to complete payments seamlessly on its blockchain.

Automatic liquidity pool: The tokens are automatically staked after deposits on its protocol, saving users the time and effort of finding their liquidity pool. You can easily use Terra tokens across the many applications built on its protocol. 

Wormhole Protection: Terra also has an Ozone insurance protocol, protecting stablecoins like UST from the Wormhole V2 cross-blockchain bridge.
Criticisms of LUNA
LUNA has often been praised for certain of its features, while at the same time, it has come under fire for several reasons. Some of these criticisms centre around its blockchain, Terra. Terra has been criticised for:
Poor decentralisation: It has only 130 validators securing its network as opposed to Ethereum, which has about 3,038, and its top network validators hold over 40% of its delegated supply.

Price volatility: Algorithm stablecoins have been criticised for being prone to price volatility. Although smart contracts and incentives for validators run algorithm stablecoins, this might not be effective in a crisis. 
A similar algorithm token, IRON, crashed after it lost its peg of $1. Its smart contract did not prove effective when faced with fluctuating market conditions and had resulted in its value crashing to almost zero and wiping off over $1billion of its market cap. 

SEC lawsuits: Terraform Labs has also been charged with a lawsuit by the US Securities and Exchange Commission for security violations such as the unregistered operation of its brokerages and sales of securities.
Terra is still undergoing development. Therefore, it has a long way to go before catching up with leading DeFi chains like Ethereum; it has been able to handle these market fluctuations. 
Where to buy LUNA?
Open an account with an exchange of your choice. You may be asked to provide some personal information or provide an identity document depending on the policies of the crypto exchange

Deposit funds in your local currency

Search for the cryptocurrency on the exchange platform

Click the buy option and input the amount you wish to buy. 
With these steps, you can easily buy LUNA and enjoy its many benefits with these steps. However, do your own research (DYOR) before purchasing cryptocurrencies from any crypto exchange. 
LUNA vs WLUNA
LUNA is the native token of Terra, and it is very much different from WLUNA (Wrapped LUNA). Wrapped LUNA (WLUNA) is an Ethereum token (ERC-20) that serves as Terra's blockchain representation and tracks LUNA's value. Through a WLUNA partner, 1 LUNA can be exchanged for 1 WLUNA and vice versa.  WLUNA was created to allow LUNA holders to trade, hold, and participate in Decentralized Finance (DeFi) dApps built on Ethereum. 
Concluding Thoughts
Terra is a decentralised, permissionless, and programmable payment network that runs with its native token, LUNA. The protocol allows online merchants and their customers to make low-cost payments and transactions. Terra's open network is also well-suited to decentralised applications, resulting in a thriving ecosystem around the protocol. With LUNA, the stablecoins issued on the Terra network maintain price stability that makes them attractive to investors and users. 
Since its start, Terra has partnered with over 15 e-commerce companies, including Tiki, Qoo10, Carousell, and Woowa Brothers. In fact, there is a $150 million ecosystem from which Developers can openly submit proposals to access the fund, which was created to accelerate the ecosystem's development.
LUNA has a lot of promise, and despite some reservations about its protocol,  it has the potential to become a crucial component of the DeFi ecosystem and the crypto space.